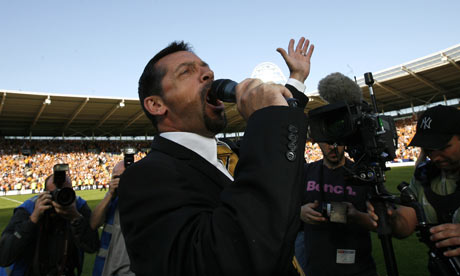 LiberoFootball's Greg Cross with another hilarious extract from his imagining of Phil Brown's diary:
(20/05/2011) The Year of Our Lord, 2011.
I await the endless, consuming blackness which is explicitly twinned in glorious juxtaposition of ecstacy that comes with autoerotic asphyxiation. I am strung up, bound, helpless, awaiting my end, my North End, in Big Sam's 'Kloomph' Ikea wardrobe. In tasteful 'birch'. Preston are down. My reputation, so highly thought of, shot to shit. Shot to the very same faecal matter that lines this festering wardrobe, where I have been since my boys, my Preston boys, dropped me in the brown stuff.
The belt, the belt that was to end it all, slipped off my neck two Saturdays ago. It lies on the wardrobe floor, coated in my own filth, my fetid, squalid filth.
The 'Thirst Aid' cap that Mrs Brown bought me back from her travels to Bangkok last year has long been drained of its life-sustaining 'Um Bongo'.
The 'Trio' bars that I found lodged in the back of this wardrobe (sell-by-date, June 1992) long since eaten.
My 'Bluetooth' earpiece is dangling from my ear. I can hear Big Sam, downstairs, on his, ordering a pineapple and ham pizza. The sick bastard. The sick, naked, watching 'Air Wolf' handsome bastard. I'm upstairs, awaiting release. Release from relegation. Release from unannounced cameo appearences on 'MOTD2′ and release from the cheap sodding market bought crap red braces that are hanging me like a naked, orange tinged Marionette puppet from Big Sam's hanger bar.
I don't want the blackness now. I want promotion. I want to taste the glory again. I want my Preston North End. I want to sign ageing veteran players and take credit for their skill, I want to see Big Sam, doing the 'Snoopy Dance' when his latest Amazon purchase slides through the letter box, I want to leer like 'Hannibal Lecter' at Kelly Cates next time I am on 'Talk of the Terrace', I want to wear a pink cashmere sweater around my neck like a young James Van Der Beek, and I want to sing 'The Beach Boys' to my adoring public just one more time.
Cut me down Sam. Cut me down and allow me to be your wingman; you be 'Maverick' and I'll be 'Goose'. Or 'Merlin', depending on my moustache status.'