There has been a great deal of criticism concerning Arsenal recently. Player selection, tactical decisions and the failure to replace departed players adequately are all topics on the lips of Arsenal fans. The captivating 4-4 draw with rivals Tottenham Hotspur portrayed all the strengths and weaknesses of a side that remains very much a work in progress.
The midfield and its workings have been subject to great criticism. Initially, there were doubts that Walcott, Nasri, Fabregas and Denilson could withstand a physical battle. Soon afterwards, the balance of the quartet was called into question. There are doubts concerning the defensive capabilities of Nasri, still only 21 and adapting to a new country and intensity of football, and Walcott. Both seem to shirk from aerial battles and occasionally do not press their opposing player. This seems to have exposed their respective full backs in Clichy and Sagna. Yet the biggest debate remains with the central pairing.
Denilson has been under the spotlight of the average since replacing Mathieu Flamini as Fabregas' partner. How the duo operates has been highlighted as a major flaw in Arsene Wenger's team. In fact it is a similar set up to how Fabregas and Flamini worked. The Catalan playmaker adopted the deeper role when defending, while the athletic Flamini chased the ball down, much like Denilson attempts in the current side. Naturally this changes when Arsenal are on the offensive, with 'Cesc' Fabregas operating closer to the strikers.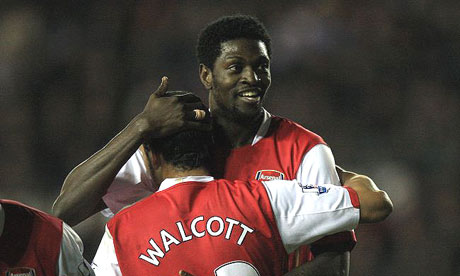 Attacking-wise there are few complaints, with the Gunners scoring 44 goals in all competitions, with the season not even into November yet. Arsenal has had 162 shots in the league with 43% on target. In Robin van Persie, they possess the league's top shooter (34 efforts). Yet, they've also conceded 13 goals in all competitions (10 in the league), a statistic which clearly describes their 'Achilles' Heel'. The majority of these have originated from set pieces and shots from distance, with the lack of height and heading ability in the side, coupled with a lack of 'full court' pressing.
Denilson has added more than his fair share to the Arsenal cause, with two league goals and three assists from a player labelled as a defensive midfielder, more than productive. His ball retention, in terms of successful passes is at 86%, with only Xabi Alonso and Mikel more successful in this department. While a number of these passes are conservative, rarely does the Brazilian slow down attacks, joining many. His lack of a physical presence and defensive naivety has often exposed the defence. Yet the blame cannot be squared directly on Denilson's shoulders.
Since Gilberto Silva arrived in 2002, the label of a defensive midfielder has become more and more prominent at Arsenal, and to many fans it is inconceivable that Denilson be allowed to play his natural game as a 'second volante'. According to these critics, Fabregas is inhibited by Denilson and the two wide players, thus explaining his poor form. It is clear that with Flamini and Hleb, players with footballing and personal bonds with Fabregas, departing, the Spaniard's influence on the team has suffered. Yet even with this new midfield that he has to supposedly 'carry', he has appeared in a number of dangerous attacking positions, but his final shot has been lacking.
Then there is the evidence against the duo and also Alex Song, who has been involved in a number of games, though not always in his preferred midfield position. Geovanni, Grant Leadbitter, David Bentley, Jermaine Jenas, Luka Modric. What do the aforementioned have in common? A decisive shot against Arsenal from outside the 18 yard box; all rippled the net, whilst Modric's dipping volley rebounded off the woodwork into the path of Aaron Lennon, who slotted home on Wednesday night. None were closed down by the midfield and defence, gifting the opponent time and space.
There were also incisive counter attacks which revealed the imbalance in Wenger's side. Porto hit the bar in the opening minutes at the Emirates with a fluid move that exposed the poor defensive game at the club, but eventually succumbed in a 4-0 loss. If the side want to be more secure defensively in a 4-4-2, Alexandre Song must be played in place of Denilson, as the Cameroonian would offer cover for the marauding full backs and the wide midfielders, who offer little defensively. Walcott is similar to Overmars in that respect, but the fact is, in the first title-winning Wenger team, there were athletic and physical players to cover the Dutchman, a luxury which Walcott is not afforded.
The midfielders must attack and defend as a unit, and with time the fluidity will arrive. The makings of a silverware-winning side are present, but Nasri must be given time to adapt, and Walcott must mature defensively and in terms of his decision making. Denilson is ahead of Flamini circa 2006 concerning development and it is only a matter of time before he becomes the player Arsenal need. Yet time is something the club may not have. Fabregas, having had his first taste of silverware with Spain this summer, may not want to wait for another side to be built up again. It may have to be this season. Four years may be one year too many for the Spaniard, regardless of his loyalty to Wenger.
Then we arrive at the core of the media attention. The central defensive pairing of Gallas and Toure is too one dimensional. When with a commanding defender such as John Terry or Sol Campbell, both have excelled in mopping up the second ball or any knock downs, yet now they are vulnerable together, despite their accumulated recovery pace. This has resulted in the side conceding goals from set pieces with alarming regularity. Read Kevin Davies, Daniel Cousin, Brede Hangeland and a Mikael Silvestre own goal amongst the set piece mishaps.
Yet the arrival of veteran Silvestre has seen a change. The Frenchman is willing to attack the ball, allowing his defensive partner to shine. Despite the side conceding four goals on Wednesday, it was more due to poor goalkeeping from Almunia and a terrible error from Gael Clichy. The side should have recovered and stopped Jermaine Jenas from advancing but the lack of midfield cover was clearly evident, but the centre backs did not stand out in a negative light, with both capitalising on the clumsiness of Heurelio Gomes.
As for Sagna, he seems to have been hit by 'second season syndrome', as for what symptoms come under that umbrella word, who knows? Yet he appears to have lost a yard of pace and seems to have actually regressed in his defensive capabilities. It is unclear as to whether this is a natural occurrence for a player in his career at Arsenal. Kolo Toure had a similar spell, while Philippe Senderos' spell at the club was blighted with errors. Gael Clichy seems to be gifting players space in between himself and his centre-back, allowing a number of crosses and shots into the box. Known for his consistency and remarkable stamina, Clichy is prone to the rare calamitous error, such as at Birmingham last season and his dallying on the ball against Tottenham.
What was surprising was the poor performance of Manuel Almunia. The former Celta Vigo 'keeper was off his line for David Bentley's spectacular lob, yet he was blameless here. With Arsenal executing the offside trap poorly, it has become the norm for Almunia to act as emergency sweeper to prevent his back line's incompetence resulting in a goal for the other side. Thus, it is common for the man from Pamplona to play off his line. However, he can be blamed for spilling Huddlestone's shot into the path of Darren Bent. What was surprising was the regularity at which Almunia punched the ball, with his composure to catch the ball under pressure a valued asset. A visit to aerial specialists Stoke, hunting ground of Rory Delap, is not what Arsenal will want with a goalkeeper low on confidence.
As for Robin Van Persie and Emmanuel Adebayor, the duo have been Jekyll and Hyde in how their impact differs game to game. Against Tottenham, van Persie was man of the match, with two assists and a goal, whilst also creating eight other goal scoring chances for his team-mates, including a sumptuous pass to Samir Nasri, whose effort was bundled in by Adebayor. Yet on other occasions, they've been anonymous. Sunderland away is just one example, but they must be more consistent if the Gunners are to take the results they require.
Yet, what is most important is the issue of complacency. Alexandre Song's face was the embodiment of the attitude Arsenal players approached the last few minutes of the draw with Tottenham. By laughing and smiling and high-fiving Denilson, it appeared the game was won with a two goal lead intact. The lack of focus was astonishing, with Eboue and Fabregas attempting unnecessary through-balls and squandering possession carelessly. A more focussed team would not have made those errors. A more experienced side would not have made those errors. Yet the age-old debate of youth versus experience cannot be used here, with Wenger rightly sticking to his principles.
Arsene Wenger's substitutions and tactical decisions (such as playing van Persie wide left) may have been questionable to say the least in other games this season, and tonight was no different. He removed any attacking outlet in a completely open game by taking off both Nasri and Walcott, and replacing them with Diaby, who seemed more interested in dribbling around the opponents than securing the result and a jovial Alexandre Song. Yet, the fact remains that any eleven players should be able to hold a 2 goal lead for 10 minutes, even more so if they play for a Champions League club.
Arsene Wenger's project is far from complete and the current action must be none. Only time will tell if these players will learn from this lesson and take it along with them as the season progresses.